See why CloudBlue is a Representative Vendor in Gartner® Market Guide for Marketplace Operation Applications
View the Report
BLOG | Jan 18, 2023
How to Get the Most Value from a Minimum Viable Product

In today's competitive market, having the right product for your customers is essential for your success. But how can you ensure that your product is what your customers need before making a full commitment of your time, budget, and resources?
The solution is to offer a Minimum Viable Product (MVP) to test and confirm the market value of your product, solution, or service. For cloud providers, oftentimes this MVP will be offered to the market in the form of an "MVP as a Service." An MVP as a Service provides the ability to offer a recurring service to your customers yet first test your idea and its market potential while investing minimal time and cost, thereby reducing risk, and ensuring the full launch of your as-a-service offering will be a success. In this blog post, we'll examine how cloud providers can obtain the most value by offering an MVP as a Service by following some best practices. You'll learn:
Why offer an MVP as a Service?
How to shift to a Product-as-a-Service model
How to implement the minimum viable product (MVP) process
7 ways to gain the most value from an MVP
Let's take a look at each of these points.
Why Offer an MVP as a Service?
There is no denying that the technology sector is experiencing a digital paradigm shift. As a result of this digital revolution, providers have the opportunity to create offerings that deliver greater value to their customers than ever before.
During this ongoing transformation, customers have been in the driver's seat, expecting more value from products, solutions and services. They want technologies that create greater synergies when combined in a larger solution. For example, customers are interested in the integration of technologies such as IoT, AI and digital twins.
As a result, providers are looking to integrate these technologies into their product and services. This trend has profoundly transformed the competitive landscape.
Customer outcomes can be even more significant when smart, connected products are transformed into product systems. A product system consists of multiple interconnected products that work together to deliver increased value to the customer.
These product systems can "plug into" a system of systems coordinated and optimized for an entire environment, such as a smart farm or smart city.
By integrating product systems into larger systems of systems, organizations can make their products better while improving the customer experience even more.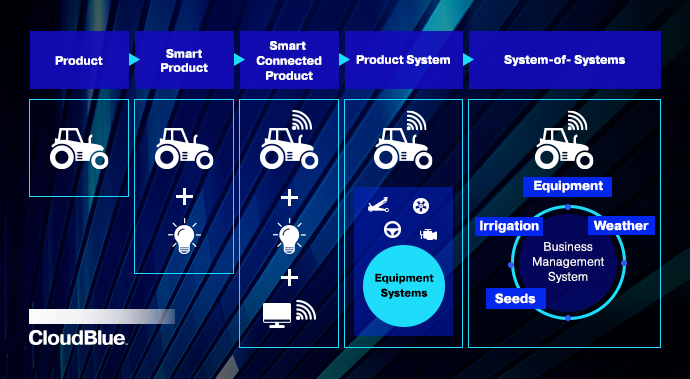 To harness the full potential of smart products and services, organizations must put customer experience and outcomes at the heart of intelligent design and operating models.
Organizations whose products and designs have the greatest impact on total system performance will be in the best position to drive this transformation and capture disproportionate value.
To get the most out of smart services and products, companies should put the needs of their customers at the center of their planning and decision-making. The businesses with designs and products that are most influential on the overall performance of systems will be the first to lead their change and reap the biggest rewards.
That's where offering an MVP can help, by enabling a small test of customer preferences to ensure they are met.
Shifting to a Product-as-a-Service Model
The relationship a technology vendor has with its smart products—and with its customers—is becoming increasingly continuous and flexible. Smart products continue to develop long after they have entered service. Providers that can adapt their products' performance in response to customers' needs can make a difference in the market.
The data that these products create and gather can allow their makers to offer intelligent services, leading to new business and revenue models.
At the heart of this is "servitization," which refers to the shift to a different business model from the traditional to a product-as-a-service (PaaS) model, which is outcome-based or usage-based. Servitization involves establishing a one-stop solution bundle that meets the specific demands of customers' individual needs by integrating smart and connected products with on-demand services provided by their suppliers.
If any product can be identified as a service, customer satisfaction and outcomes become essential for ensuring the customer loyalty. Customer satisfaction and loyalty, ultimately, are key market differentiators.
By using models that are based on usage, companies provide their customers with the ability to access products while maintaining ownership. Outcome-based models take technology-based service models a step further by providing tangible business results. Businesses provide benefits directly to their customers and are paid only when the predetermined outcomes (e.g., cutting costs) are reached. For example, Hitachi provides trains as a service in the United Kingdom. The company's compensation is according to reliability KPIs, including onboard temperature and availability of the fleet.
According to a survey conducted by Capgemini Research Institute, more than 80% of companies recognize that the shift from product-based models to service-based models is the most considerable shift that they are experiencing in their respective industries.
This transformation, however, will affect the way the products are produced. Many design elements will be affected by the fact that the product is provided as a service because the creator remains responsible for the maintenance.
Additionally, any product that is sold under the pay-per-use model should also collect usage data to ensure that customers are correctly charged. This requires a clear understanding of the type and location of sensors, what data will be gathered, and how often it should be analyzed.
When Xerox evolved from selling copiers to charging by the document, it added sensors on the photoreceptor drum, feeder output tray, and toner cartridge. The sensors enable accurate billing and facilitate the sale of consumables, such as paper and toner.
Implementing the Minimum Viable Product (MVP) Process
It's not easy to shift from traditional products to smart products delivered as services. This requires digital proficiency, new ecosystem collaborations, organization restructuring, customer centricity, and new business models. The majority of organizations are only beginning this transition. In fact, many are still using pilot projects and proofs of concepts (PoCs). Based on the results of an analysis that the Capgemini Research Institute conducted, just 7 percent of companies have adopted smart technology as services that could be scaled across business units or geographies.
Making smart products as services can cause uncertainty in profits and margins because they dramatically disrupt marketplaces and existing business models. Many organizations are unsure what they can do to make the most of their offerings, finding themselves stuck in a state of analysis paralysis or pilot purgatory. As with any trend, it's easy to get caught up in the hype and jump in without a clear purpose.
From the start, businesses should determine the problems they are trying to solve and their ROI objectives.
Implementing the principles of an MVP helps reduce the expense of testing smart products as a service. The lack of barriers for testing makes it easy to shape a product's design, readying it for market. Although an MVP is not a final product that is released into the market, its purpose is to provide information to be collected on the user, the market, and the distribution channel.
Gartner describes an MVP as the release of a new product (or a major new capability) used to validate customer needs and demands prior to developing a more fully capable product. In contrast to a proof of concept or prototype, an MVP is a fully functional product that is targeted to end customers. To reduce development time and cost, an MVP is limited to the basic capabilities needed to become an acceptable customer-facing solution.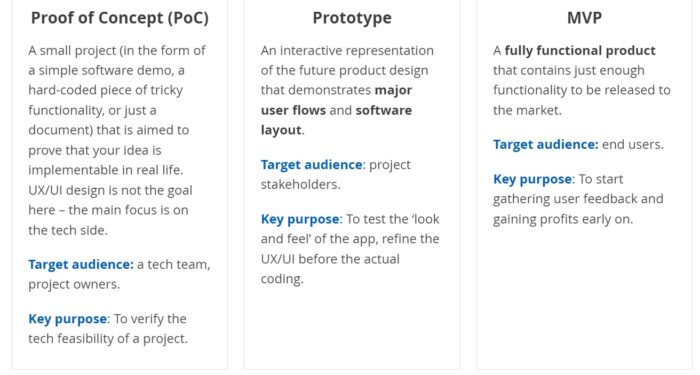 The objectives of an MVP are to confirm the idea behind the product, test hypotheses about market needs, adjust the product vision, and determine the best place to make investments in the future. In this way, MVPs can be the most effective way to find the right product-market fit. In fact, several well-known startups such as Uber, Dropbox, Slack and Zappos began their journey to unicorn status with MVPs.
7 Ways to Get the Most Value from an MVP
So, how can your company gain the most value from an MVP? To optimize the ROI from an MVP, consider the following approaches:
Engage customers early in the process: The first steps toward smart products will require testing and engaging with a wider range of people in a product's ecosystem. Gathering customer data will identify which features and capabilities are the most popular with customers.
When you add these features to your product, you'll be able to create more interactions, and that means more information. As more customer-centric insights are revealed, pricing, revenue, and channel models will need to be adapted to encourage large-scale adoption of smart products.
Build or share a digital lab: Having access to a lab can make the ideation process with stakeholders much smoother, it also provides a place where you can showcase the possibilities. In these spaces, the product stakeholders can meet and discuss the business benefits of creating a smart product. Building powerful customer behavior models will help you to identify the potential business benefits and the influence on the traditional business model.
Define metrics: Choose what you want to monitor (such as volume, velocity, and functionality), including how it is delivered (tracking such items as defects, performance, and spillover). It's essential to keep an eye on these metrics and make adjustments as needed to improve customer outcomes.
Make plans to assess risk and increase the ROI-to-risk ratio: Create strategies to keep risk at an acceptable level. While there is risk in launching an immature product too early and damaging an organization's reputation, there is also inherent risk in waiting too long to "perfect" a product. Market conditions may move ahead and leave the product behind.
Weigh and measure capabilities. Determine which features to introduce based on their revenue potential. The MVP should include the capabilities thought to be the most wanted by customers. This will be validated by market testing.
Include necessary core capabilities. Take steps to ensure acceptable performance, safety, and security. For example, you should not fly anything less than an airworthy aircraft. That model is an MVP. More advanced features will come later.
Be cautious of defining an MVP as a complicated bundle of complementary products. To save time and resources, consider complex bundles later.
Include the value of learning in the calculation of ROI. Quantify the value of everything you learn about your customers in the ROI calculation. A more efficient and functional product—and one that your customers need and want—will be launched using the information and data collected. The development process for a product is a process of learning. And the learning process does not end with the release of the MVP. The continuous cycle means that a product is continuously being developed and that knowledge is being gained with each release.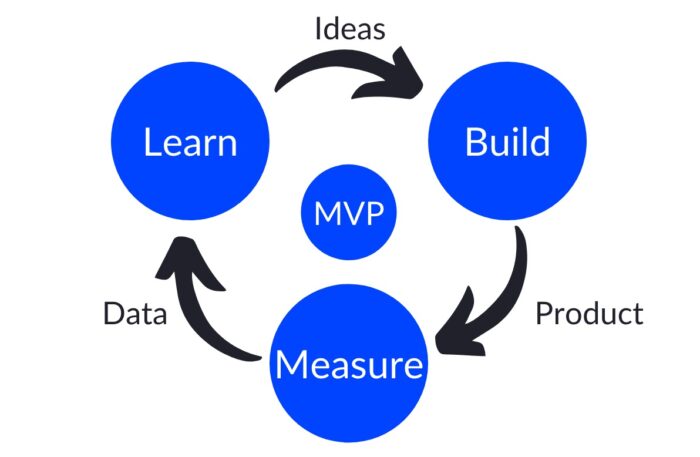 Conclusion
Developing an MVP as a Service can help companies improve customer outcomes and ensure successful product launches to increase revenue. Through the process of developing an MVP and introducing it to market, they can identify customer needs and desires with greater accuracy, test out new ideas before committing to them, and develop the right product features quickly and cost-effectively. By offering an MVP as a Service, companies can gain customer insights that would otherwise be difficult and more time-consuming to ascertain. By following the 7 tips for using an MVP, businesses can increase their chances for success with any new product, solution, or recurring service by proving its customer value in the beginning.
CloudBlue, an Ingram Micro Business uses Cookies to improve the usability of our site. By continuing to use this site and/or log-in you are accepting the use of these cookies. For more information, visit our
Privacy Policy
I ACCEPT