See why CloudBlue is a Representative Vendor in Gartner® Market Guide for Marketplace Operation Applications
View the Report
WHY CLOUDBLUE
Values that drive
our innovation
Our Trust in our Team
We leverage every voice and collaborate at every level. We hire talented, accountable individuals and encourage high levels of responsibility.
Our Creative Engine
We never stop learning and enjoy the challenge of finding innovative solutions to empower our customers to achieve greatness.
Our Strive for Excellence
Our Strive for Excellence
We're aspirational in our leadership and we take pride and ownership in delivering the best.
Our Passion & Energy
We run fast, manage ambiguity, courageously take risks, and are resilient in our pursuit of ambitious goals.
OUR HISTORY
Ingram Micro launched Ingram Micro Cloud
As traditional distribution was shifting to the cloud, IM launched a Cloud division to capture the growing cloud reseller industry. IMC worked through 2013 to onboard new cloud vendors and provide multi-tier distribution to resellers.
As success and growth continued, we faced new challenges; the first was gaining the expertise to host our own data center.
OUR HISTORY
Ingram Micro Cloud acquired SoftCom
SoftCom was a hosting service based in Toronto, Canada that had been providing cloud services for 6 years. IMC initially contracted their technology services to Softcom to bring cloud services—such as email, web hosting, cloud infrastructure and customer support—to market.
IMC wanted more control and decided to acquire SoftCom. Managing the platform in our own dedicated environment with our own IT organization helped us gain that control.
OUR HISTORY
Ingram Micro Cloud acquired SoftCloudIT
SoftCloudIT was a System Integrator and APS package development firm based in Spain. They had been working with many partners to develop custom APS packages for vendors. IMC acquired SoftCloud to focus on developing connectors to support our platform. This allowed us to onboard more vendors and meet the demands of their reseller customers.
Now, IMC could manage the APS technology and develop a catalog to be more autonomous. This team has since expanded to become IMC's IT operations center and customer support center.
OUR HISTORY
Ingram Micro Cloud acquired Odin
We acquired Odin to gain control and protect our investment. The automation platform was critical to our growth strategy and controlling the roadmap was key. Additionally, IMC had heavily invested in features specific to the channel in the prior 3 years and didn't want competitors to access it, keeping us in the lead. This also opened new channels, as Odin had a large Service Provider and Telco footprint that could bring is additional opportunities.
IMC looked at other platforms similar to Odin and found only one that supported MSPs and Enterprises. To keep that technology away from competitors and open even more opportunities, IMC went after Ensim.
OUR HISTORY
Ingram Micro Cloud acquired Ensim, Mamasu and Concerto
Ensim offered an end-to-end cloud management platform but also supported Enterprises with unique capabilities. They had a strong technology that included marketplace, enterprise catalog and connectors to Azure, AWS and VMware. This opened more opportunities for us in government and enterprise.
To provide a more diverse customer experience, IMC wanted to modernize the platform's UI and interface. Mamasu allowed IMC to build our next-generation UX1 and provide a modern customer experience.
IMC acquired the assets of the Concerto platform from Flexiant, which was a multi-cloud management platform that we now call Multi-Cloud Orchestrator. Multi-Cloud Orchestrator enables customers to quickly spin up VM and manage deployments across multiple platforms.
OUR HISTORY
CloudBlue was born!
CloudBlue became a new brand and a business unit of IM CloudBlue provides a hyperscale platform with hypergrowth products and services that allows you to launch and manage an omni-product, multi-tier and multi-channel marketplace. It's the only technology that supports a true distribution motion.
IMC is one of CloudBlue's largest and most successful customers.
POWERING AND PARTNERING WITH INDUSTRY LEADERS
CULTURE
A look at
our culture
At CloudBlue, our culture is fueled by an entrepreneurial, startup spirit. Yet we also have access to big company resources to keep our business momentum going strong. Essentially, we enjoy the best of both worlds—and more importantly—so do our customers.
We value innovation, creativity, agility, resilience and more. And you can count on us to never lose sight of what matters most: integrity, dedication, transparency and diversity. Our dedication to these core principles helps us focus on the success of your business and our associates.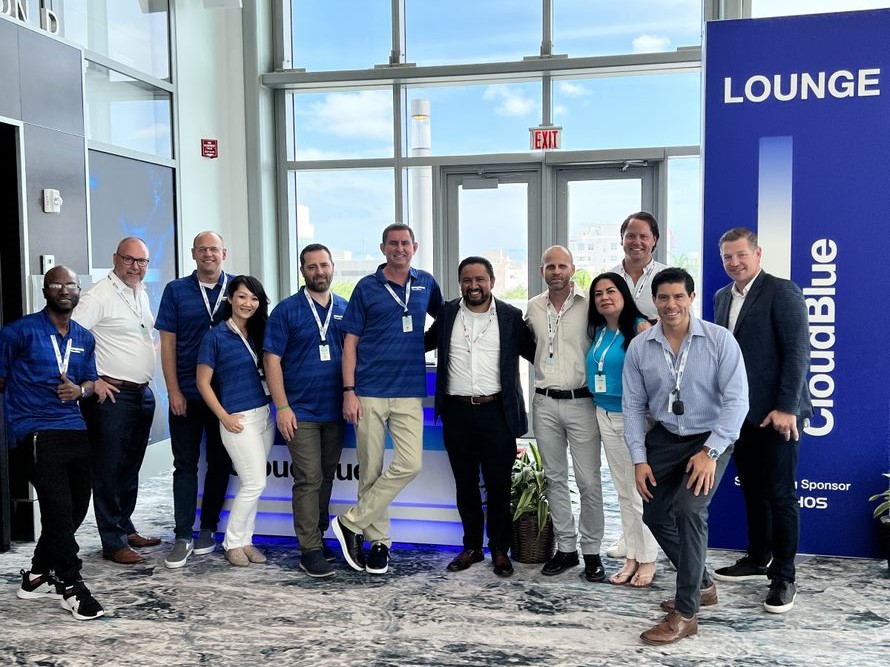 "We looked at the cost of implementing a solution and at speed to market. Although we compared several solutions, CloudBlue was the fastest and most cost-effective option for us. It also came highly recommended by Microsoft."
"With CloudBlue Connect, we're able to quickly launch new products and services for the constantly evolving needs of our partners and their customers."
"With CloudBlue, everything is possible. Without them, we wouldn't be where we are today—and we wouldn't be able to offer our resellers the Microsoft-based Unified Communications services they need to be successful."
"With CloudBlue infrastructure, you can just request a server with a certain configuration and capacity, and in a few clicks, you're done. Our customers love that simplicity, and so do we. I'm convinced that CloudBlue is the key to building and running an efficient and profitable cloud services business."
"We have been very impressed by the commitment shown by CloudBlue in making their platform relevant and effective for telecom operators. Their willingness to adapt their solutions to our requirements, however complex, delivers real value for us."
CloudBlue, an Ingram Micro Business uses Cookies to improve the usability of our site. By continuing to use this site and/or log-in you are accepting the use of these cookies. For more information, visit our
Privacy Policy
I ACCEPT