Industry: Telecommunications
Operating Countries: 25 countries across Latin America America, The Caribbean, Central & Eastern Europe
Web: www.americamovil.com
"We have complexity in terms of go-to-market, and CloudBlue translates that complexity into something more simple to manage."
José Julian Jimenez
Cloud Solutions Sr. Manager, Claro Colombia
How did América Móvil / Claro deploy a successful multi-tier distribution channel with CloudBlue?
América Móvil's (AMX) management team needed to develop a multisubsidiary catalog of SaaS and IaaS solutions in a way that was sustainable to manage at scale. They knew revenue growth would depend on the strength of its sales teams. Beyond procurement and delivery, the company needed a way to distribute product information, share pricing deals and launch new vendors across its network of entities.
It needed a solution that could support several B2B marketplaces with exceptional process flow and function across multiple countries, languages, currencies, and operating systems to maintain the strength of each local entity.
Differentiation
AMX has been able to create a valuable USP, by operating in both USD and local currencies
Accuracy
AMX now has the most up-to-date billing information, country by country. Customer by customer model
Centralization
A clear view of how the entire operation runs, country by country is now available
Scale
By automating the same business in different countries AMX can manage costs, inventory and offers, and scale more easily
Solution
América Móvil chose CloudBlue to run several marketplaces in different opcos and subsidiaries, from one integrated platform. It leveraged CloudBlue's catalog of 200+ vendors, and automated onboarding, product information management, procurement, and fulfillment across its entire multi-subsidiary organization. This simplified its distribution, pricing, billing, and usage information across 16 countries in Latin America, and supported revenue growth with sales assets in multiple languages.
By centralizing through CloudBlue, América Móvil was able to build go-to-market strategies tailored to local demand. It was also able to differentiate itself from other providers by using the CloudBlue platform to operate in both USD and local currencies – An incredibly valuable USP.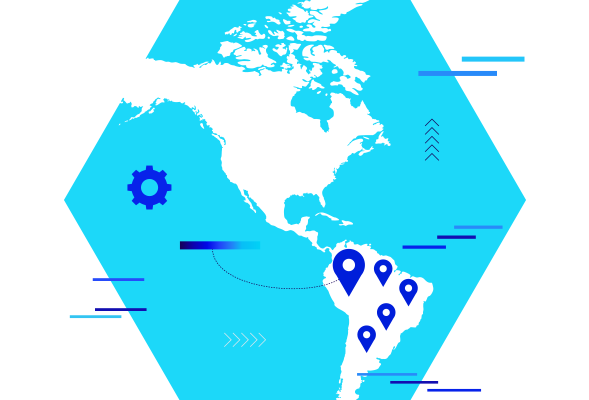 With CloudBlue, América Móvil solved the operational challenges of managing a multi-subsidiary marketplace at scale. CloudBlue's centralized, integrated platform cut through the complexity associated with SaaS and IaaS product fulfillment and helped to save valuable time and resources by automating multiple processes.
América Móvil was then able to refocus efforts on supporting its sales network with simple yet powerful go-to-market strategies tailored to the immediate needs of each local market in multiple languages and currencies. By operating in both US Dollars and local currencies, América Móvil was able to differentiate itself from its competitors and create a brand new USP – all helping to achieve the goal of increased revenue from subscription services.
A centralized e-commerce platform
allows AMX to run different go-to-market strategies in each country while maintaining a clear overview of how its entire multi-subsidiary organization runs.
Automating the same business across different regions,
allows AMX to scale on its own terms. They can use CloudBlue to translate the complexity of multi-subsidiary SaaS and IaaS procurement and delivery into something much easier to manage.
Multi-currency subscriptions
have become easier to manage and scale by automating through the CloudBlue platform.
Testimonials
José Julian Jimenez
Cloud Solutions Sr. Manager, Claro Colombia
Downloads
Download the full customer success story or the single page executive summary. Discover what it means to power your business with CloudBlue.
We're here to help.
Talk to a CloudBlue expert today.