See why CloudBlue is a Representative Vendor in Gartner® Market Guide for Marketplace Operation Applications
View the Report
Reduce Product Information Management (PIM) Complexity with CloudBlue
Product Information Management (PIM) and its predecessors has been around for as long as physical goods have been cataloged and tracked. Just think, the first mail order system was established in the mid-1800s. You may remember those hefty paper catalogs with hundreds of pages. Catalogs like these were organized in various ways: alphabetically, genre, season, gender, indoor & outdoors, and many other industry/product specific categories. When you wanted to place an order, you had to find the appropriate SKU in the catalog, fill out the SKU, quantity, and the rest of the form and send it back to the vendor to be fulfilled. One of the most famous catalogs in history is the Sears Catalog – which at its peak contained over 600 pages.
Fortunately, as software technology emerged and matured, the way goods and products are "cataloged" became much less cumbersome with the advent of PIM or Product Information Management. This is crucial given the endless number of permutations in the form of SKUs and countless amount of data attached to the software, hardware, and services sold today.
Take this example:
If a business sells a core piece of software, it might be labeled as SKU #1
If a business sells a core piece of software that has enterprise support attached, it might be labeled as SKU #2
Alternatively, if the enterprise support is separate and not bundled, it might be labeled as SKU #3
In addition to SKUs, vendors and sellers must categorize them in appropriate functions (industries, verticals, etc.)
Industries can include applications, mobile applications, information security, training support, etc.
Verticals can range from marketing, collaboration/productivity, CRM & sales, finance, legal, human resources, etc.
As you can see, this is just the beginning of structuring different products and services in the product information model. There is also less structured information – the attribute metadata that is associated with the products and services. Some various examples here:
Number of users supported
Material of the goods
Certifications covered
Sample product pictures and videos
Lastly, there is an additional dimension that all vendors and sellers must account for in today's global economy – selling in the channel. This adds additional complexity in multiple ways. Distributors and resellers all have their own unique specifications for their marketplaces that the product information must contain. For example: listing on Ingram Micro Cloud Marketplace versus listing on Microsoft AppSource Marketplace; listing on Amazon versus listing on eBay. Each marketplace has its own product-required details that the distributor sets for their vendors and sellers to submit in order to participate in that channel marketplace. This might also include various language listings that must be collected if the local language of the marketplace is different than the original listing. All in all, as technology has enabled companies to leverage product information management software more efficiently, the complexity within the PIM capabilities must also meet the demands of the ever-growing PIM space to handle product information sharing in an expanding global economy.
I mentioned in my last blog entry that CloudBlue now supports PIM capabilities within the platform. While we are just beginning, we have introduced concepts of PIM that are available for both our distributors and vendors today in their respective portals.  
The journey begins with the distributors who now have a dedicated PIM module that allows them to set different configurations across different objects (such as attributes, groups, classes, etc.) to match those of their marketplaces. This allows the distributors to collect the information needed from their vendors and sellers in the exact format that is needed to create, classify, and manage those product pages.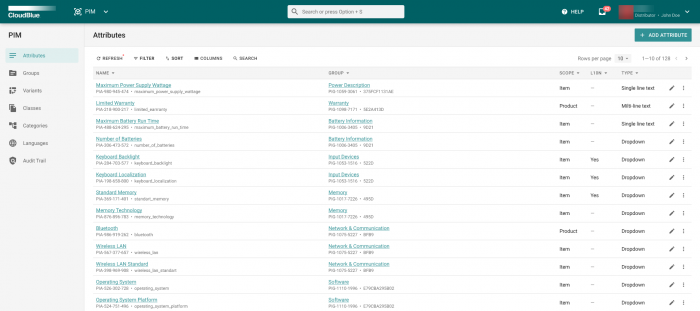 As PIM can get complex, we designed the entire feature to be completely intuitive by sharing the same design and experience as the rest of the CloudBlue platform. Informative and configurable interfaces allow our distributors to quickly add, edit, manage, and remove different configurations as they see fit. Once the distributor has set their PIM model, vendors that have a business relationship (via CloudBlue's program contracts) with that distributor will see the new PIM functionality in their vendor portal. 
On the vendor portal side, vendors will now see category selection for specific distributors when creating a new product. This allows vendors to quickly choose the appropriate and available categories the distributors have specified.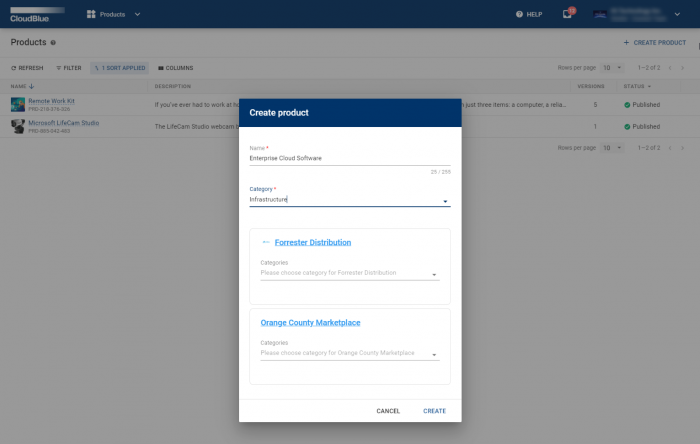 Once the vendors are in the product configuration page, they will notice some new functionality in the general tab. For every distributor the vendors are working with, the vendors will see a tab that allows them to input the information that the distributor is looking to collect – specific to that distributor's marketplace. This includes the aforementioned PIM objects such as attributes, groups, and classes.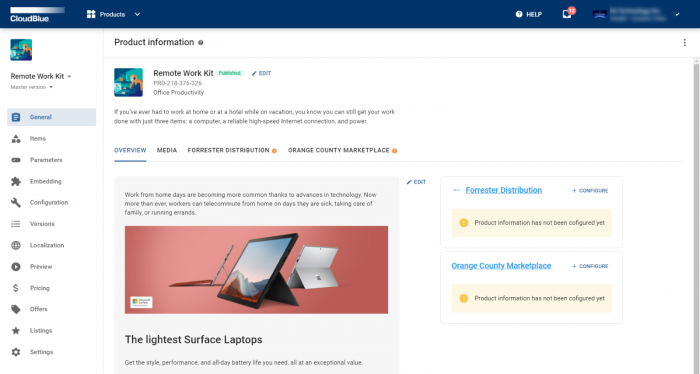 By centralizing all the PIM information collected for the specific product or service that the vendor wants to sell in the existing product module, vendors can quickly configure and manage all the relevant information about that product in one single location. This makes it easy to handle the complexity of the extensive product information required by all the distributors the vendor is working with.
Afterwards, the process remains the same through listing submissions and approvals. Once a product listing is submitted, the distributor will be able to see the specified information in the distributor-specific PIM tab in the general section in the product page.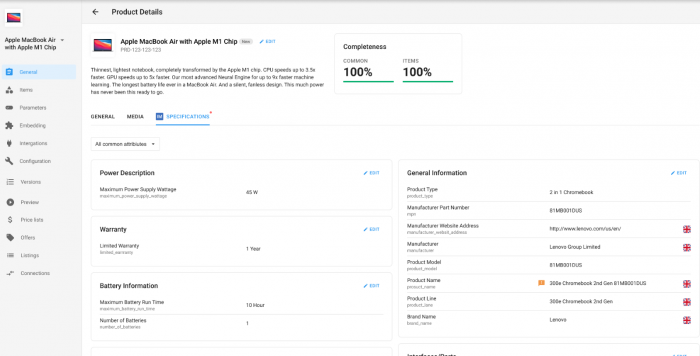 As you can see, we built CloudBlue's PIM functionality with configurability, flexibility, and extensibility in mind. Distributors can configure the exact information in their PIM model to reflect the same information needed for product pages in their commerce and marketplace solutions. Vendors can effectively and efficiently manage all the required product information needed across their channels within one centralized location. And, like all existing functionality within CloudBlue, the new PIM features have full API support. We consider PIM to be a vital part of our platform, so as we continue to develop CloudBlue CloudBlue we will continue to enhance its features, something we are very excited about – for our products, company, and customers. 
Read more about our PIM functionality here.
CloudBlue, an Ingram Micro Business uses Cookies to improve the usability of our site. By continuing to use this site and/or log-in you are accepting the use of these cookies. For more information, visit our
Privacy Policy
I ACCEPT