See why CloudBlue is a Representative Vendor in Gartner® Market Guide for Marketplace Operation Applications
View the Report


BLOG | Aug 19, 2022
451 Research highlights how CloudBlue is fueling partner growth in the multicloud, as-a-service world
AUTHOR
CloudBlue
Covering themes explored in this year's Cloud Summit in Miami Beach, Fla., 451 Research (part of S&P Global Market Intelligence) offers a report on Ingram Micro's ongoing efforts to further cloud and as-a-service consumption.
Within the context of pandemic-induced cloud adoption, digital transformation, and the increasing appetite for everything as a service, the report notes how Ingram Micro's aggregated digital ecosystem model combined with CloudBlue technology offers a scalable alternative to the DIY approach.
With CloudBlue's core technology, the report notes how Ingram Micro strives to be the business behind tech brands to help every partner reach the next level of the multicloud, as-a-service world.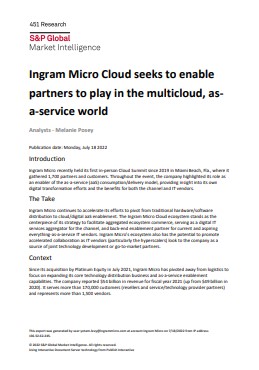 Eyeing the future, the report also looks into how the CloudBlue platform can be further leveraged to fuel product development and connect partners with hyperscaler marketplaces.
Excitingly, it notes the unveiling of Xvantage, a digital experience platform poised to drive global digital transformation through the strength of Ingram Micro's own ecosystem.
© 2023 Ingram Micro, Inc. All Rights Reserved
Resource Center
Success Stories
Additional Learning
CloudBlue
Contact Support
Documentation
© 2023 Ingram Micro, Inc. All Rights Reserved
CloudBlue, an Ingram Micro Business uses Cookies to improve the usability of our site. By continuing to use this site and/or log-in you are accepting the use of these cookies. For more information, visit our
Privacy Policy
I ACCEPT