Forrester recognizes CloudBlue as a leader in the New Wave: Marketplace Development Platforms report
Download the report
EVENT
Save your seat for the next Global Vendor Roadshow
Oct 5, 2022
The Global Vendor Roadshow is fast becoming one of the most popular virtual events for cloud service providers (CSPs) using CloudBlue technology. These live sessions allow you to prepare and plan your portfolio strategy with new solutions to build a strong Anything-as-aService (XaaS) marketplace.
And, as a cloud service provider, you know that building a complete portfolio which resonates with your customer base and increases your ARPU is key to driving a successful cloud business. Understanding the fast-growing categories and emerging vendors (ISVs) your customers are looking for is a basic first step. This is where the Global Vendor Roadshow comes in.
You'll hear from a select group of new vendors from the CloudBlue Fast-Track program. These vendors will help you understand the many cloud solution opportunities in your market, and how you can easily benefit from them as a CSP.
The Global Vendor Roadshow helps you to discover, learn and understand the opportunity with emerging vendors from fast-growing categories. You'll also discover vendors that you can onboard faster, with lower risks, and no heavy lifting.
Discover the IT industry forecasts by analysts
You will hear from Mateus Costa, Global Senior Director of Customer Success in CloudBlue, about the IT industry outlook & spending forecasts by analysts now that conventional wisdom holds that companies cut their spending in the face of a down economy. However, technology and service providers face an apparent contradiction: analysts' consensus seems to be that enterprise IT will not be impacted by inflation or spending expected to be reduced. To the contrary, the shortage of IT skills in the labor market, and the global supply issues for microchips are expected to boost cloud-related IT spending.
When is it?
There are two sessions to accommodate all time zones:
North America & Latin America:
Wednesday, October 5th | 9:00 am PST / 12:00 pm EST
Europe, Middle East, Africa, Asia & Pacific:
Wednesday, October 5th | 09:00 am CET / 15:00 pm MYT, AWT / 18:00 pm AET
Here's what some of the participants are saying: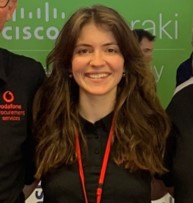 Emily Fischer
Product Specialist, ICT Practices Vodafone New Zealand
"The Global Vendor Roadshow was a fantastic way to learn in a fast and easy way about a wide array of cloud opportunities in the market and how to capture such opportunities. Even better was to learn about them directly from the ISVs who are creating these opportunities and opening them to channel partners like us. Timing also couldn't be better since we are now planning the next waves of ISVs after launching a few weeks ago our Vodafone Business Marketplace, powered by CloudBlue." 
Ben Nahum
Cloud Sales Manager, Triple C
"It is not easy to stay on top of the latest opportunities in Cloud, especially in such a dynamic and fast-moving environment. Therefore, listening in a succinct way to ISVs talk about such opportunities and how exactly an organization like ours can materialize them has been fantastic and a much more efficient way compared to us engaging with these ISVs on our own."
About the CloudBlue Fast-Track Program
There are currently over 200,000 ISVs/IP owners worldwide and Forrester estimates that there will be over 1 million by 2027.* With this proliferation of ISVs/IP owners, creating a winning portfolio with new cloud solutions can be challenging. The CloudBlue Fast-Track Program helps CSPs to identify solutions for a winning portfolio that not only fulfill end-customer needs but add actual value to them.
*Source: https://www.forrester.com/blogs/the-channel-software-stack-a-comprehensive-and-critical-look-at-the-future-of-the-industry/  
CloudBlue, an Ingram Micro Business uses Cookies to improve the usability of our site. By continuing to use this site and/or log-in you are accepting the use of these cookies. For more information, visit our
Privacy Policy
I ACCEPT