CloudBlue is a leader in the Forrester New Wave: Marketplace Development platforms report.
Download the report


ANALYST REPORT
Learn how CloudBlue offers channel partners a competitive edge over other cloud marketplaces
As demand for cloud infrastructure and the supporting software continues to grow, both vendors and channel partners require new routes-to-market. Canalys believes cloud marketplaces form an important juncture between vendors and channel partners. In its new report, Canalys explores how such marketplaces will create valuable cross-sell opportunities for all players.
The report lifts the lid on the birth of cloud marketplaces, focusing especially on those created by hyperscaler cloud service providers and those borne from the direct needs of established channel distributors. Learn why Canalys believes CloudBlue's historic relation with Ingram Micro holds the key to its future and the edge it offers as an independent ecosystem provider.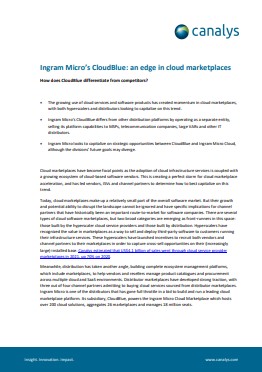 Download "Ingram Micro's CloudBlue: an edge in cloud marketplaces" today to uncover how CloudBlue Connect and CloudBlue Commerce support ecosystem growth across verticals with a global network of 200 vendors, 300 products and 140,000 resellers. In addition you'll learn about Ingram Micro's new CEO – Paul Bay – and the company's exciting new AI-driven venture: the Xvantage platform.
Already a Canalys Member? Download the Report.
CloudBlue, an Ingram Micro Business uses Cookies to improve the usability of our site. By continuing to use this site and/or log-in you are accepting the use of these cookies. For more information, visit our
Privacy Policy.
I ACCEPT