See why CloudBlue is a Representative Vendor in Gartner® Market Guide for Marketplace Operation Applications
View the Report
"What is Subscription Management and why do I need it?"
Subscription management is the method of controlling a subscription's lifecycle for your customer – and for driving transformational growth for your company. As subscriptions become ever more common across our lives and work, how you manage this lifecycle can help you scale growth in your company across all your digital and physical products.
So, how can CloudBlue help you?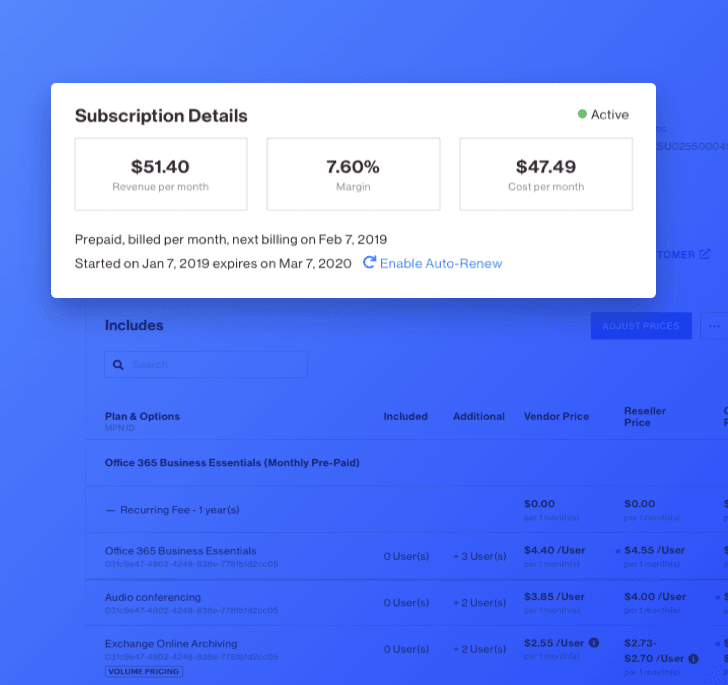 Launch and manage your ideal B2B subscription model for your customers
With CloudBlue you can create flexible subscription plans and ensure accurate billing across thousands of customers, all in a few simple steps.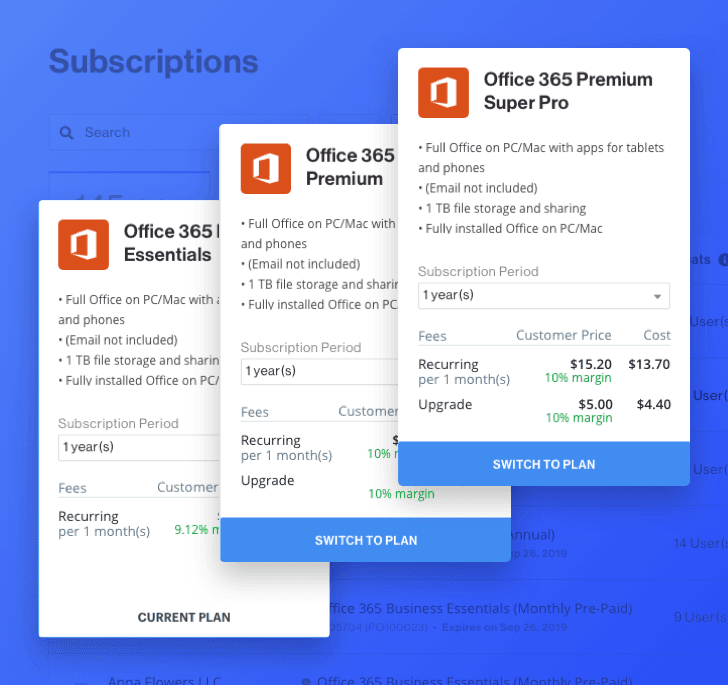 Generate more revenue by upselling your bundled products and services
Now you can expand your customer base and improve recurring revenue with CloudBlue subscription management solutions.
Increase your customer retention metrics by selling and retaining long term client subscriptions
CloudBlue helps you lower your churn rate, strengthen your customer engagement, and increase your customer's lifetime value.
Solution Demo: CloudBlue Subscription and Billing Management
Watch this demo for a step-by-step walkthrough of how your customer can subscribe to a product using our CloudBlue subscription and billing management solution. Want to view the full list of capabilities supported by our solution? Contact us today.
Powering and partnering with industry leaders






What subscription and billing processes can you perform with CloudBlue?
See how CloudBlue's subscription management solution makes managing your customers' subscriptions profitably simple.
Easily support your recurring revenue and other transactional model offerings
With CloudBlue you can create and offer any combination of recurring and one-time products to accelerate your businesses growth – and drive more revenue.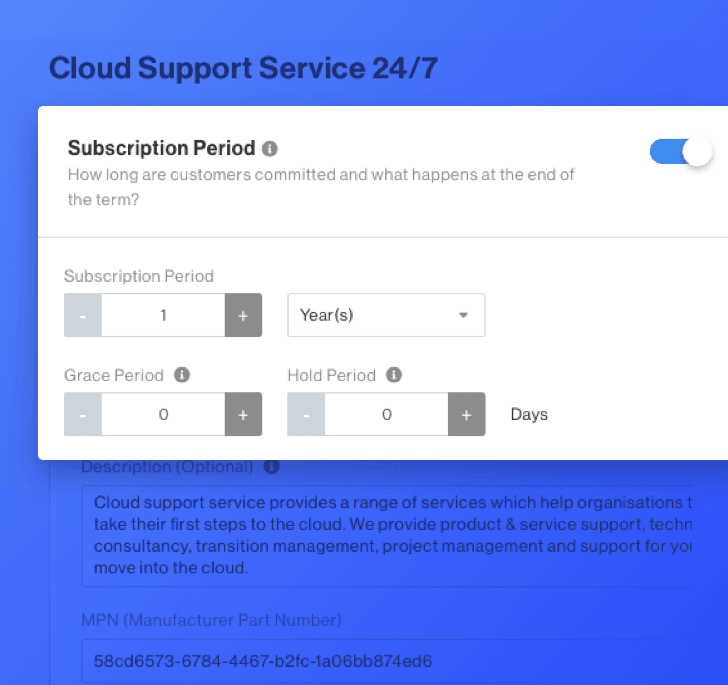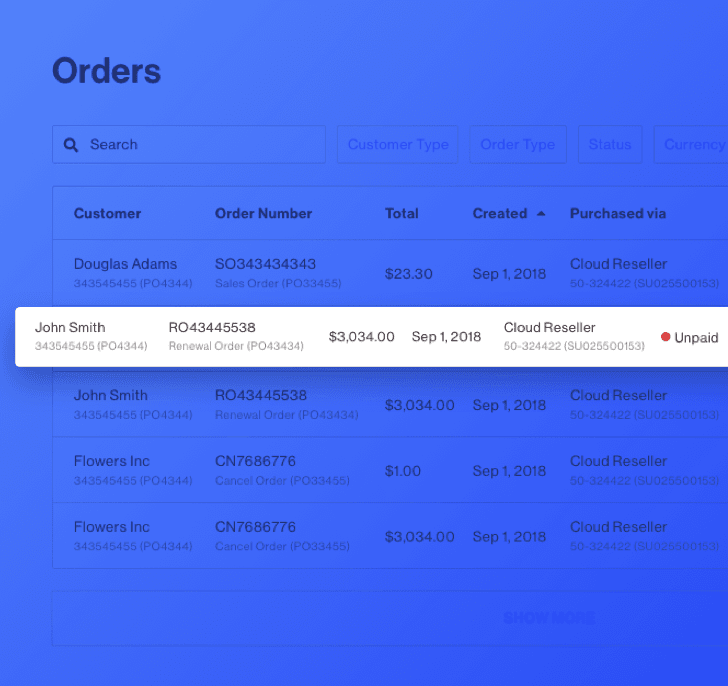 Reduce your billing inaccuracy for improved transaction transparency
CloudBlue simplifies complex rating processes and automates billing workflows to reduce manual errors – and helps you to gain greater visibility through third-party integrations with your existing billing systems.
Build your flexible B2B marketplace and deliver your customers a better experience
Streamline your B2B marketplace operations with CloudBlue's multi-tier capabilities so you can deliver custom solutions and subscription-based bundles – resulting in higher recurring revenue.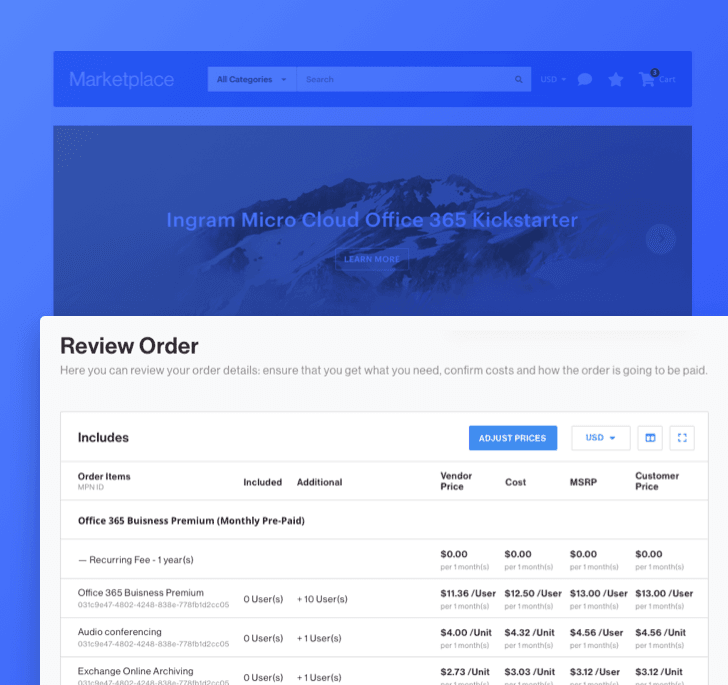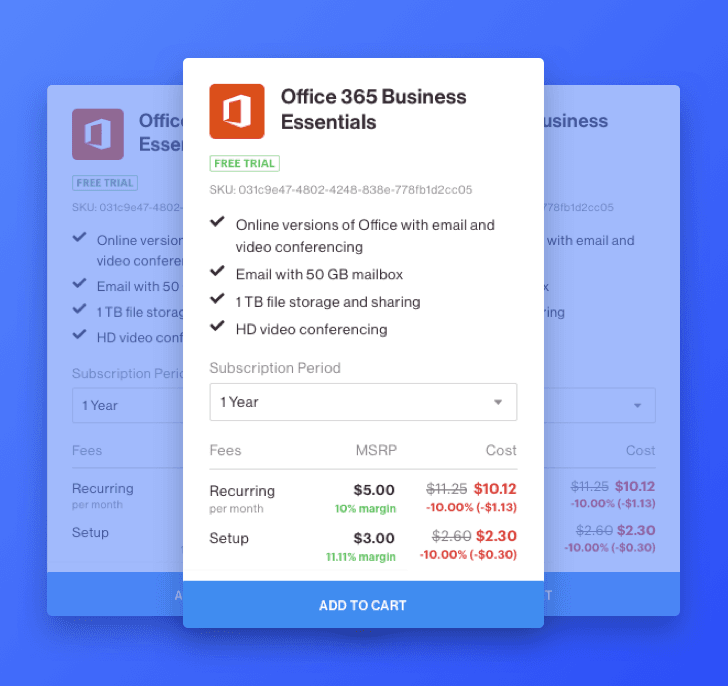 Create incentives to acquire new customers and grow your current customer base
With CloudBlue you can easily experiment with different discount and promotion pricing strategies to optimize your opportunities for revenue growth – and customer acquisition.
Manage your customers, users and offers from order creation to billing and beyond
CloudBlue allows you to manage all changes made throughout your subscription flows, including upgrades or downgrades, renewals, restoring an expired subscription, and much more.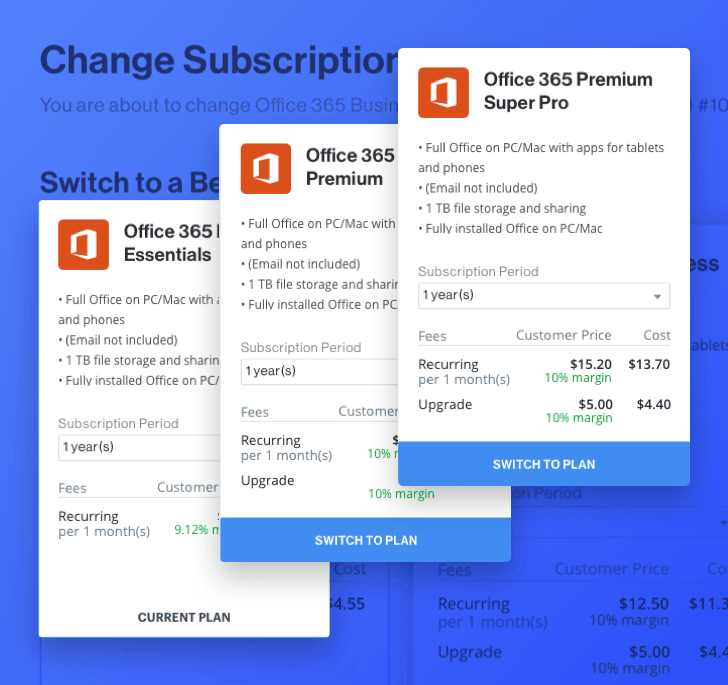 Tim FitzGerald
VP, Ingram Micro Cloud
""With CloudBlue, we're able to quickly launch new products and services for the constantly evolving needs of our partners and their customers.""
Tim FitzGerald
VP, Ingram Micro Cloud

Juan Manuel Moreno
Global Cloud Director
""We have been very impressed by the commitment shown by CloudBlue. Their willingness to adapt their solutions to our requirements, however complex, delivers real value for us.""
Juan Manuel Moreno
Global Cloud Director
Want to learn more about how CloudBlue helps companies around the world?
CloudBlue is a hyperscale platform with hypergrowth products and services – and access to a hyperconnected ecosystem of 200+ top-selling vendors, 200+ leading brands and over 80,000 partners globally.
Read on to find out about how CloudBlue can help your XaaS business thrive in an ever-changing economy and see where our solutions can drive your growth.
Time to grow?
Click here to talk to a CloudBlue expert today to get started.
CloudBlue, an Ingram Micro Business uses Cookies to improve the usability of our site. By continuing to use this site and/or log-in you are accepting the use of these cookies. For more information, visit our
Privacy Policy
I ACCEPT