What is XaaS?
XaaS stands for anything as a service or everything as a service. An as-a-service solution can be any product, tool, or technology, delivered digitally or provided to a customer in a hardware or software solution bundle. This cross selling of hardware and software is a key part of 'everything / anything' as a service.
XaaS lets customers pay for solutions on a consumption basis, rather than owning the product or solution outright. Customers don't need to install anything on their own servers—they just pay for access to the software. Typically, XaaS customers only pay for services they use and are billed following a pay-as-you-go model.
Contents
What is a XaaS service model?
A XaaS service model is a method of managing the delivery and billing of software, data storage, and computing resources as a service over the Internet, or provided as a contracted service in a bundle. The solution bundle can often include a physical, hardware element such as a laptop, mobile phone, etc. or network, server, or computer access.
With an as-a-service model, customers can subscribe to solutions without having to purchase and maintain infrastructure. Companies no longer need to invest in creating and maintaining their own technology. The as-a-service model is a business approach that provides customers with flexible, scalable services and helps with business processes – all on demand.
XaaS follows a pay-as-you-go billing model where the subscriptions are generally auto-renewed annually, with customers paying monthly.
How is XaaS different from SaaS?
The acronym XaaS is a broad term for the deployment of a cloud service for use by the customer on a subscription basis. There are three main subcategories of services in XaaS: software as a service (SaaS), infrastructure as a service (IaaS), and platform as a service (PaaS).
SaaS is software that's hosted online instead of on the customer's own computer or servers. As it is hosted online, there are no installation fees or maintenance costs associated with SaaS. Customers don't have to worry about buying new hardware or upgrading software versions as everything is controlled by the provider.
In the XaaS model, subscription-based solutions are often negotiated on an annual basis and paid for monthly. As such, XaaS creates consistent, recurring revenue for SaaS providers.
What are some examples of XaaS?
The three main types are:
Software as a Service (SaaS) when providers deliver cloud software as a subscription-based service.
Infrastructure as a Service (IaaS) is the provisioning of digital infrastructure like networks, computers, servers, storage, etc. on a pay-as-you-go basis.
Platform as a Service (PaaS) helps businesses create and deploy applications without the need to build and maintain costly digital infrastructure. You will sometimes see software called PaaS platforms.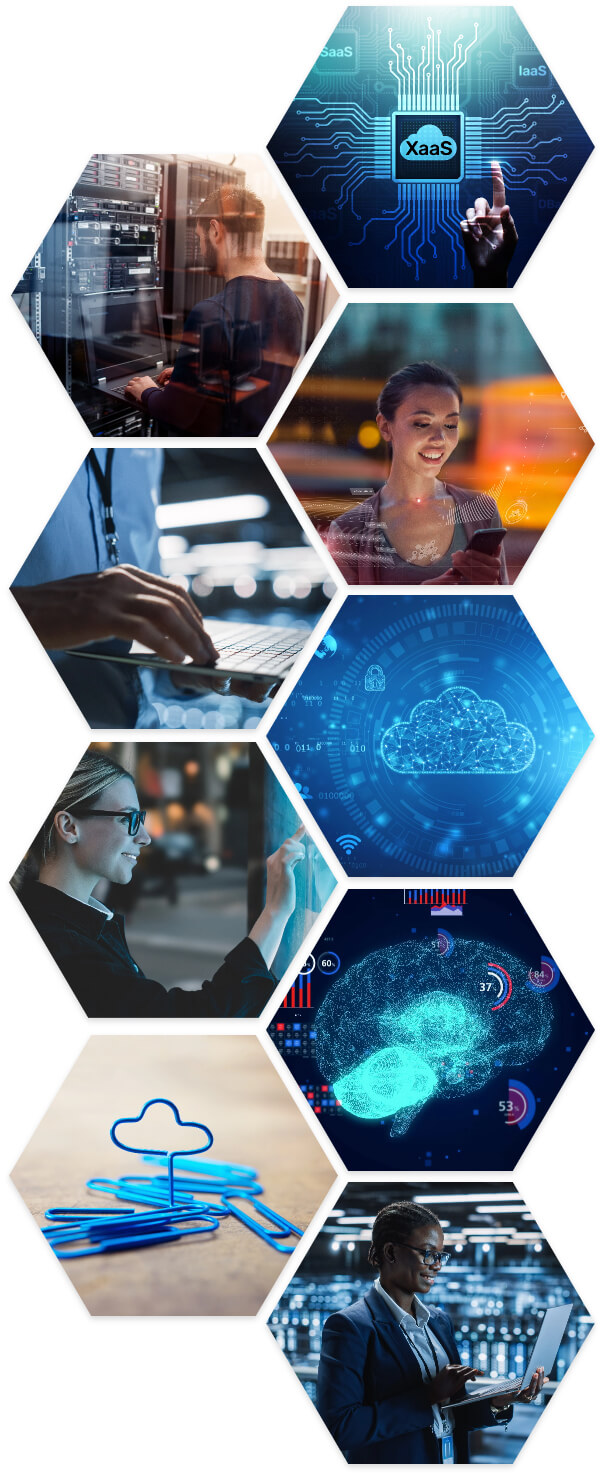 What are the main benefits of XaaS?
For customers, there are many advantages to this type of business model:
Flexibility: allows businesses to scale up or down their services based on their needs at any given time. This means it's easier for businesses to grow as capital spending is spread over a subscription period, not paid upfront.
Cost efficiency: As customers use rather than own equipment to run their operations, they can reduce spending on equipment maintenance costs.
Increased productivity: IT teams can work on high value projects rather than maintaining and monitoring infrastructure.
XaaS also has many benefits for providers, including:
Predictable recurring revenue: provides a source of recurring revenue for technology distributors, telcos and MSPs.
Increased customer satisfaction and loyalty: simplifying customer access to as-a-service solutions improves the time the provider can spend on the relationship.
Greater reach: It is easier to deliver, buy, and sell bundled products which means providers have better access to more customers, improving providers' access to new market segments and geographies.
In this way, customers can focus on the outcomes they're looking for, instead of maintaining resources.
What are some complexities of XaaS?
The XaaS service model adds complexity to a business's operations, as it involves a wholesale change in operational processes like procurement, fulfillment, billing, and subscription management. These changes happen due to the increase in the number of transactions and building out the processes to control them. The extra complexity comes from the creation of XaaS product bundles, which businesses use to group products together.
Procurement and fulfillment are highly complex areas, alongside billing, which itself is often usage-based or subscription based. Due to increases in transaction numbers and complicated billing, automation is used to reduce inefficiencies and errors.
Depending on the maturity of the business, adding in automation to control the service level agreements can be complex. A XaaS platform software should have automated procurement, billing, and fulfillment capabilities to help businesses overcome obstacles and open the doors to growth.
Ready to learn more about XaaS?
CloudBlue provides an automated XaaS management platform that enables delivery automation. Here are some resources for more information: