What is a white label marketplace platform?
A white label platform allows organizations to launch an online marketplace without having to develop it themselves. Essentially, it's a pre-built platform that can be customized with branding and features specific to an organization, such as product listings, payment processing, and order management. White label app marketplaces and white label SaaS marketplaces are two popular options for those seeking a white label business opportunity.
White label marketplace software platforms offer three competitive advantages. They are:
Customizable: They allow companies to create a unique experience that satisfies customers.
Accessible: Because they are typically cloud-based, like SaaS marketplace software, organizations can access and manage marketplaces from anywhere with an internet connection.
Supported: Platforms often come with support and maintenance to ensure they stay up-to-date and run smoothly.
Contents
What features should you look for in a white label marketplace platform?
To make sure an online marketplace meets your needs, look for the following features:
Customization: Does the platform let you change how it looks to match your business? You should be able to customize the logo, brand colors, and other design elements to be consistent with your branding.
Scalability: As you start selling and your business grows, the platform grows with you, easily taking on more sellers and solutions helping you to add more profit margin.
Security: The platform should provide robust security features to keep your customer's data safe and sound.
Payment processing: Look for a platform that can provide multiple payment options, such as credit cards, PayPal, and others.
Mobile compatibility: The platform should be optimized for mobile use and provide a seamless user experience across multiple devices.
Reporting and analytics: Choose a platform with detailed reporting and analytics to help you track sales, monitor performance, and make strategic decisions.
Integration: The platform should work with your other business tools, such as accounting and marketing software.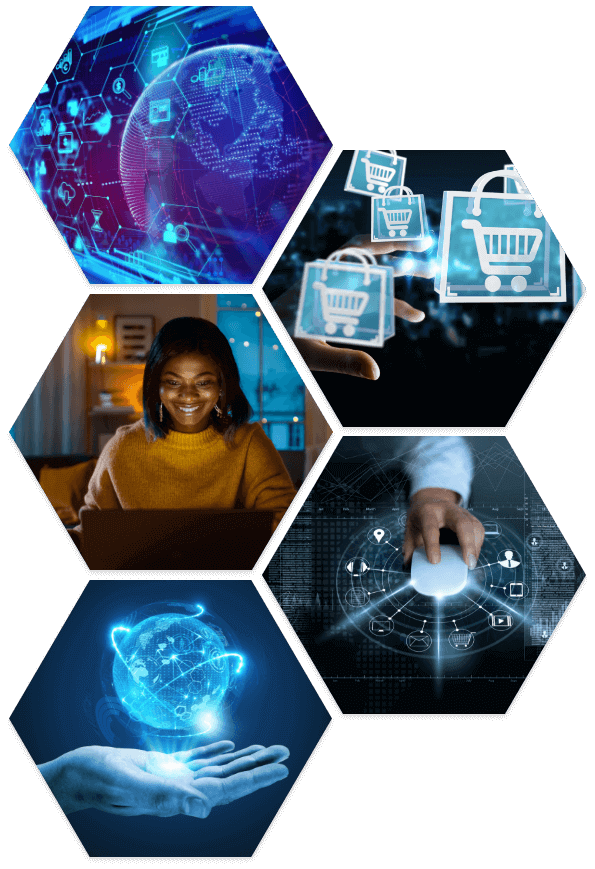 What are some common pros and cons of white label marketplace platforms?
Like any software solution, white label marketplace platforms have pros and cons. Let's take a closer look at some of the most common ones.
Pros:
Cost-effective: Using a white label marketplace platform can be more cost-effective for businesses, who don't have to build a custom platform from scratch.
Quick to launch: Because marketplaces are pre-built and require minimal setup, companies can launch them quickly. That means they can start unlocking new business opportunities right away.
Scalability: They can grow with a business, handling more and more sellers and products. They can also scale with any new pricing strategy, which may be needed as the company grows.
Support and maintenance: Many white label marketplace platforms offer ongoing services to keep the platform up-to-date and running smoothly.
Customization: Many platforms can be customized to match a business's unique branding and design preferences.
Cons:
Limited flexibility: Some platforms restrict the ability to add unique features or functionality.
Control: You may have limited control over the platform's development, updates, and overall direction.
Vendor lock-in: Changing platforms after investing can be difficult, leaving a company tied to the original vendor. That's a problem if they're not happy with the product or service.
Brand differentiation: Pre-built marketplaces often share a similar layout, making it hard for the platform to stand out from the crowd.
Are white label marketplace platforms expensive to build and deploy?
Costs will vary depending on several factors, including build-in features, the size of the platform, and which provider the company chooses to work with. Typically, using a pre-built digital marketplace is less expensive than building a custom platform because it requires minimal setup.
Some white label marketplace platforms offer different pricing tiers with varying features and support. This allows a company to choose the best option for their needs and budget. It can opt for a monthly or annual subscription fee rather than an upfront cost, making it easier to control spending.
One of the benefits of white label marketplace apps and platforms is that they are cloud-based, eliminating the need for additional infrastructure purchases. The provider takes care of hosting, security, and maintenance, allowing companies to focus on their core business without the burden of managing the platform.
What products and services can be sold via white label e-commerce marketplaces?
White label e-commerce marketplaces connect businesses and customers, giving access to a broad customer base all in one place. Common products include physical items that can be shipped, such as clothing, electronics, and home goods. Businesses can also sell digital products, downloads such as music, eBooks, and software, and experiences like event tickets.

You can also use e-commerce marketplaces to offer services like consulting, tutoring, design, and writing, many of which can be provided remotely. They also facilitate the rental of physical products (vacation homes, cars, or equipment) or the sale of services that follow a subscription model.
Additionally, some digital marketplaces offer crowdfunding options, enabling businesses and individuals to raise funds for projects or products.
Which types of businesses use white label marketplace platforms?
White label B2B and B2C marketplace platforms can be used by a wide range of businesses.
For example, white label marketplace platforms enable retailers to expand their product offerings and consolidate items from various sellers in one location. Retailers can establish a marketplace featuring clothing, accessories, and shoes from an assortment of brands and suppliers. This approach allows the retailer to present a wider selection to customers, boost revenue, and decrease inventory expenses.
Using white label marketplace platforms, manufacturers have the opportunity to sell their products directly to consumers. By creating a marketplace for their own products, manufacturers can bypass intermediaries and distributors, giving them greater control over pricing, branding, and customer relationships.
Digital service providers, such as telecommunications companies, can also gain an edge by using white label marketplace platforms. By establishing a marketplace that resells business services from different vendors, a telco can attract more customers and open up new revenue streams.
What are the benefits of a white label marketplace platform for a Telco?
White label marketplace platforms offer Telcos a range of benefits, including new revenue streams, cost-effectiveness, and improved customer engagement. With a white label marketplace, Telcos can quickly launch digital products and services under their brand, such as music and video streaming, mobile apps, and e-books for consumers.
And for the Small and Medium Business (SMB) market, Telcos can provide a platform for SMBs to purchase telecom-related services such as the internet, cloud computing, and communications tools.
By doing so, they can generate new revenue streams and increase customer loyalty. A white label marketplace platform enables Telcos to save time and money by avoiding the need to build an in-house platform from scratch. This allows them to focus on core business functions while still offering a range of digital products and services to their customers.
Alongside generating new revenue streams and being cost-effective, white label marketplace platforms provide Telcos with flexibility, customization, and valuable data insights. Telcos can tailor the platform to suit their branding and customer requirements, allowing them to create a unique offering in the market.
This helps to differentiate them from competitors and build stronger relationships with their customers. A white label marketplace platform can provide Telcos with valuable data insights on customer behavior, preferences, and purchasing patterns. This enables them to optimize their offering and marketing strategies, as well as identify new revenue opportunities.
Key takeaways
By embracing white label solutions, businesses can concentrate on their marketing strategy and selling white label products, all without the pressure of developing a platform from the ground up. This approach saves time and resources while enabling quick scaling and entry into new markets. That's why white label marketplace platforms are becoming a go-to choice for businesses striving to thrive in the competitive world of e-commerce.
Ready to learn more?
Find out how CloudBlue can help you easily procure, sell, manage, and invoice all your subscription services on one fully automated, enterprise grade XaaS subscription marketplace platform.