Forrester recognizes CloudBlue as a leader in the New Wave: Marketplace Development Platforms report
Download the report
BLOG | Apr 19, 2022
What's new in CloudBlue Connect v25
We're excited to announce the availability of CloudBlue Connect v25! With this latest version of Connect, we are introducing new modules, new features, and updates and improvements to existing functionality. I'm going to highlight a few of these exciting major changes below and you can see the full release of changes in the V25 Release Notes.
Additionally, be sure to join us in our Connect V25 Overview Webinar on April 29th at 7AM Pacific time to learn more about the features and updates available with this release.
Your Product, Producto, Produkt, and 製品!
The Connect platform operates worldwide with partners reaching every region of the globe. Because of the globalized nature of channel distribution, distribution and marketplaces are catered towards the local language of the resellers and customers – which allows for clear communication in business transactions. With Connect v25, the platform now supports localization of product definition that is sold in marketplaces with different locales.

Users of Connect will notice a new module called Localization. This module allows all users to view products in their respective portal and view the translation strings of the definitions associated with the product – such as items, parameters, embedding experiences, and others. This will allow Vendors to specifically configure the product definition languages associated with the Distributor's marketplaces that they list into. Additional features also include an auto-translate functionality, where users can take advantage of machine-translation for their existing definition.
From a Distributors point of view, users can associate languages to their configured marketplaces details in their Marketplaces module. By setting up the locales for each marketplace, the Distributors' Vendors will know exactly what languages are available in that marketplace and what translations should be provided for the products that are sold in that specific channel.
Managing language translations can be difficult but users will be glad to see that the familiar Connect design interface makes it easy and intuitive to manage the different languages, strings, and details of the translation.
Accountability through Service Level Management and Service Level Agreements
Ensuring that delivery and fulfillment of orders and requests in a timely manner is one of the most important aspects when working in distribution. Customers have a certain level of expectation of when their orders will be fulfilled and ready for use – especially in today's digital world. That's why we've introduced dedicated Service Level Management functionality for our users to set up time-sensitive triggers and actions when working with different types of requests.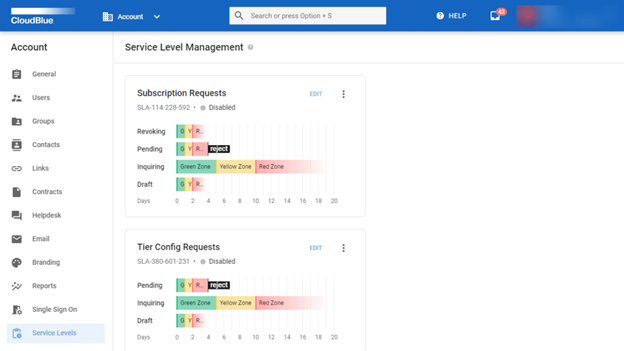 Users will notice a new tab in their Account module labeled Service Levels. In this tab, they are able to set specific time durations for their SLA Zones – broken down into green, yellow, and red. Each colored zone represents the time flexibility that the user sets. Green being the most generous time remaining, yellow meaning that the expected time is fast approaching and red meaning that the request is in violation and passed what was agreed or expected for such request. Users can set these zones for each status of the request.
If the request hits the configured time limit without any action, it is automatically moved into the next zone and the platform sends out a notification of the status transition change. This is especially helpful to remind users which request requires action.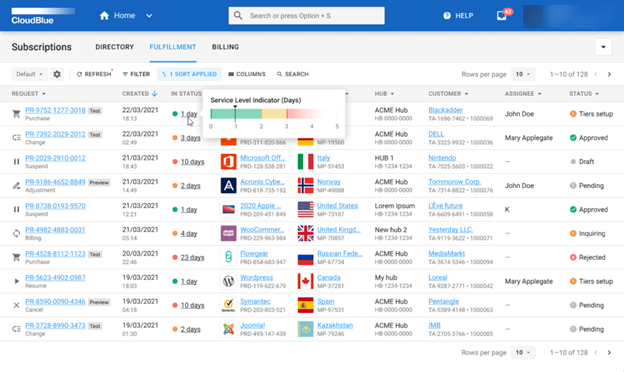 We've also introduced a new column in the Subscriptions Fulfillment page. This Status column reflects the SLA zone and the time it has been in that zone of the specific request. This will allow users to quickly filter and see all their requests in specific zones – which is very helpful to identify which requests require the most immediate attention and action.
New Product Information Management (PIM) dimensions available
Since we've introduced our PIM functionality in Connect, we have consistent invested into this area to introduce and improve functionality for our users. Products and marketplaces are very complex – which requires a system that can configure, handle, match, and store the PIM information associated with those products available in those marketplaces.
With this new version of Connect, we've introduced Item-Attributes and Variants in our PIM model.
Item-Attributes is a new scope (in addition to the existing Product-Attributes) that users can configure for information related specifically to an item. This allows for more granularity than Product-Attributes, which can be important when there are item-specific attributes that need to be collected and communicated.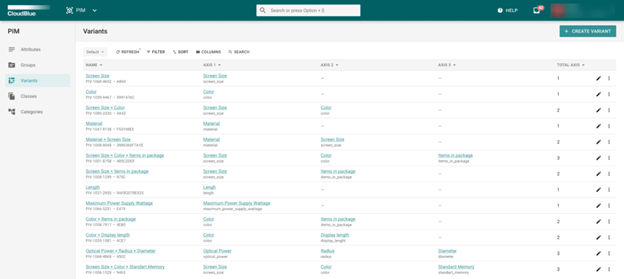 Variants is a new dimension that allows Distributors to combine multiple Item-Attributes that are closely associated to help identify product variations that fit that combination of items. This combination – or Variant – can then be associated with Classes or Categories, which the Vendor can then fill out specific attributes list for. This is very useful for complex software and hardware that can vary between different items or SKUs.
As always, as we introduce additional and complex features in the platform – such as these new PIM features – we keep the usability and experience in mind by creating an interface that is easy, familiar, and intuitive to use.
With this update to our CloudBlue Connect platform, we continue to introduce new features while investing into our existing functionality to help our customers succeed in catalog and channel management. We understand that operating in channel distribution can be an intimidating and complex journey – which is why we strive to make CloudBlue Connect provide the tools and platform to help our partners succeed in this challenging space.
For full details of the changes within this release, please go to our CloudBlue Connect V25 Release Notes.
Stay tuned for more helpful information for this release in the coming weeks – including our Connect V25 Overview Webinar on April 29th at 7AM Pacific time and more product-focused blog posts.
CloudBlue, an Ingram Micro Business uses Cookies to improve the usability of our site. By continuing to use this site and/or log-in you are accepting the use of these cookies. For more information, visit our
Privacy Policy
I ACCEPT