Forrester recognizes CloudBlue as a leader in the New Wave: Marketplace Development Platforms report
Download the report
BLOG | Jul 13, 2021
Operating Securely with CloudBlue Connect v23
We are proud to announce the availability of CloudBlue Connect v23 – and with it, a host of new features and improved functionality centered around communication in the channel between partners, secure integrations, and increased flexibility in usability and product configurations. In our hyper-connected world, businesses, especially those working in the channel, are constantly striving to keep up with communication to and from their partners, desiring flexibility to make quick changes to their products and services, and all the while seeking to manage their users in a secure operational manner.
We're going to highlight a few major feature implementation and improvements below, and you can see a full release of the changes in the v23 Release Notes.
Educate, enable, and communicate with your channel partners through the Newsfeed module
Success in ecosystems and the channel largely depends on clear and frequent communication between partners and heightened coordination and awareness of business priorities.
With our new module – labeled "News" – our partners in the CloudBlue platform can create, update, and manage posts that can be shown to specific partner types (such as only to distributors, vendors, or resellers) or to everyone that they are working with. This feature will enable a stream of user/business content as it pertains to the channel, from the partners that work within Connect.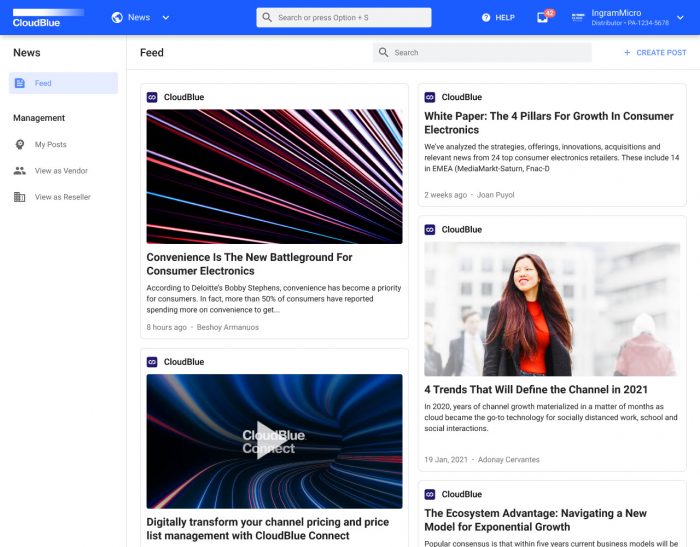 With this feature, the possibilities are limitless to create and communicate specific content that helps promote and update channel partners on the latest and greatest news happening within the company's channel or ecosystem business. Some examples can be promoting new products or services to targeted distributors, introducing new programs to resellers, or advertising what's new with the company, such as upcoming events, conferences, or webinars. We are excited to see the creative ideas that our customers come up with!
Securely manage users with our new external identities' management integration capability
One of the biggest challenges in today's cloud-first approach is enterprises losing control over security policies when working with external platforms. There are numerous requirements that a customer of these platforms may ask for – certain complexities for passwords, multi-factor authentication, limited log in attempts, and so on. It becomes evident that enterprises can easily lose control if not managed correctly when working with different platforms, especially external ones.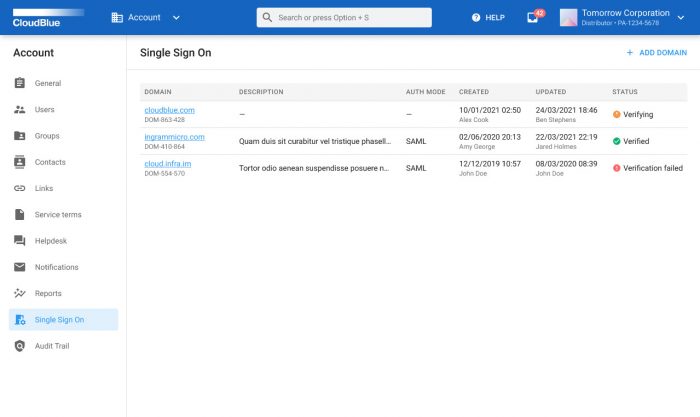 With the latest version of Connect, enterprises can now integrate with their own external identity management system and provide Single Sign On (SSO) capabilities to their users when working with CloudBlue Connect. In this brand new Account module feature, companies can register their company's domain(s) with Connect and configure SSO with the given domain to these systems – whether it is Azure Active Directory, Okta, or PingIdentity, just to name a few. This additional flexibility in Connect will provide security operators the ability to uphold internal security policies and will allow users to maintain a single, secure password that is consistently updated and abides by corporate policies.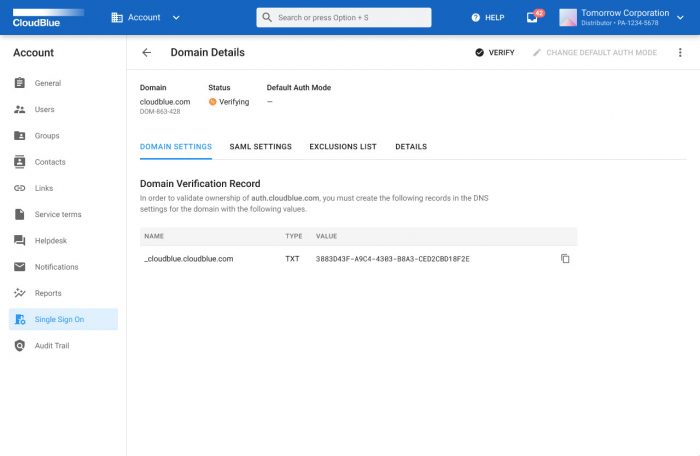 As of this release, we support the SAML 2.0 protocol with OAuth 2.0 and OpenID Connect planned for future releases.
Communication emails – how you want it and when you want it
Email notifications are an essential and critical part of integration with Connect for all account types, especially when dealing with subscriptions. Companies want to brand and customize notification content and messaging, and they want the ability to segment and send different messages to appropriate users.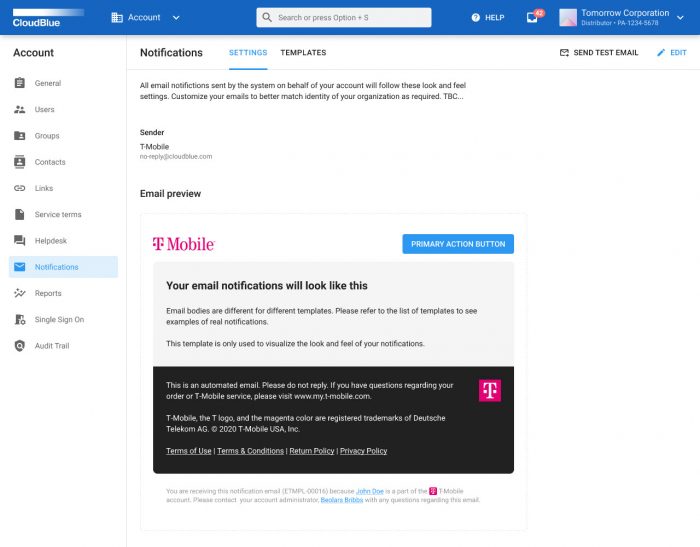 With this new Account module feature, users within the account can set the exact look and feel of the email notifications that are sent from Connect as they pertain to their account. The customization can include specific logos, footers, action buttons, and through to the content itself with the easy-to-use email configurator and HTML editor.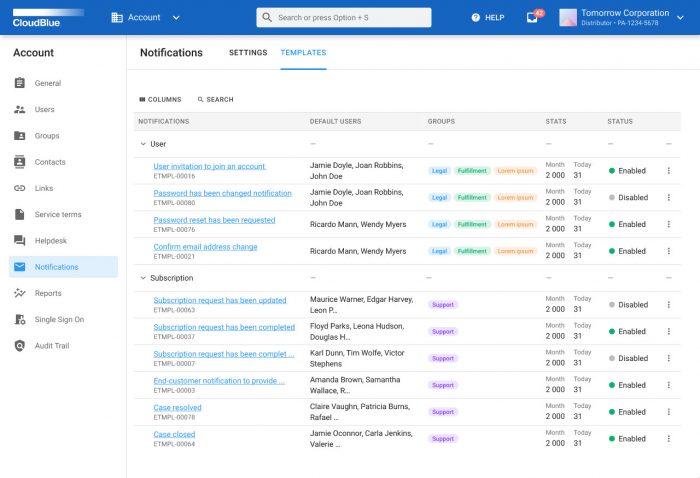 Users can also set up different templates for different actions (such as an invitation to join the account, support emails, subscription requests actions, etc.) and specify targeting for the segments of users and groups which will receive these types of notifications. With additional features such as enabling and disabling templates, sending test emails, and generating email statistics, users can take full advantage of this feature to quickly produce customized and branded content for a better user experience.
Developing and Managing Extensions right within Connect
As our users and power users start leveraging the full capability of Connect – such as automating the provisioning of their products and services – they start to look for an easy way to manage these different extensions, or "middleware," as they're commonly known. These extensions allow our users to communicate with different systems to create a symphony of technology that helps increase efficiencies and lower operational and development costs across the board.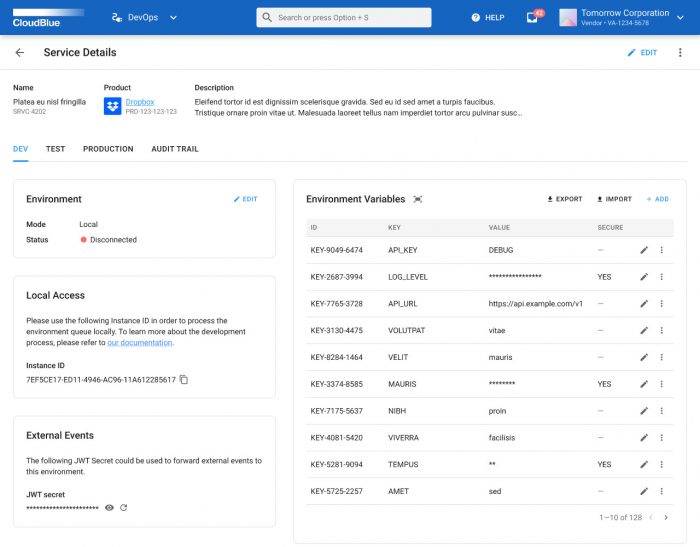 With our new DevOps module, users can now access our "extensions-as-a-service" environment that is managed by the Connect platform and any system integrations team working to build extensions for our partners. This standardized environment provides out-of-the-box Monitoring/Logging capabilities and Horizontal scaling that allows users to work with our SDKs in both a local or cloud development environment with source code delivery through Git and versions management. Using these tools to build out extensions quickly, users can build on dev, staging, and production environments, and test and validate their extensions to ensure that it is built and operating properly, while maintaining low operational and development costs.
This is an optional feature that our users can leverage and, for our most advanced users, building and operating custom environments will still be possible.
As you can see, we've introduced a host of new features that helps enable communication between our partners in the Connect ecosystem and tools that helps drive security and creative development when working with CloudBlue Connect. We are very excited to see how our customers will leverage and take advantage of these new features to help further their channel and ecosystem success.
Stay tuned for more helpful information for this release in the coming weeks – including our CloudBlue Connect v23 release webinar on July 21st.
CloudBlue, an Ingram Micro Business uses Cookies to improve the usability of our site. By continuing to use this site and/or log-in you are accepting the use of these cookies. For more information, visit our
Privacy Policy
I ACCEPT