See why CloudBlue is a Representative Vendor in Gartner® Market Guide for Marketplace Operation Applications
View the Report
BLOG | Jul 6, 2023
Feature Highlights: Microsoft Online Management Extension (MOME)

Summary
Microsoft Online Management Extension (MOME) is a microservice (small independent services that communicate over well-defined APIs) designed and developed by CloudBlue and seamlessly integrated into the CloudBlue Marketplace platform. It equips our Microsoft partners with a single pane of glass to manage their customers and conduct business operations smoothly and efficiently.
In a world without MOME: The top challenges
Microsoft partners have long navigated a challenging landscape marked by obstacles such as:
Unmanageable volumes of customers
Constant system-switching for customer management
Manual and complex domain management processes (configuring customer's existing domain to Microsoft's environment)
Threats of data misuse by malicious entities and bad actors
The too-common result? A customer management process that's labor-intensive and unmanageable, hindering scalability and ultimately leading to lower revenues.
How MOME revolutionizes customer management for Microsoft partners
More than just a tool, MOME is a game-changer for Microsoft partners. Instead of repackaging traditional challenges, MOME eradicates them, clearing a path for growth and operational efficiency. With MOME, you get:
Enhanced insights and control. MOME offers Microsoft partners a deeper understanding and greater control over their Microsoft customer tenants in a single location.
A unified interface. MOME serves as a consolidated platform, streamlining the vital tasks of automating the domain management process by configuring the customer's existing domain to their Microsoft environment.
Detailed Secure Score. MOME enables Microsoft partners to improve how they approach customers' security posture by using Microsoft Secure Score, which is based on Microsoft system configurations, user behavior, and other security-related metrics.
CloudBlue's MOME: Key differentiating features
MOME comes packed with a rich suite of features. Each one is tailored to simplify and optimize customer management processes, and collectively, they offer our Microsoft partners a unified, efficient, and seamless platform for managing customers and conducting business operations. In addition, MOME offers a customer control panel, empowering customers to manage themselves.
Let's take a closer look at what MOME offers:
Customer Tenant Summary. The Customer Tenant Summary uses data sourced from both the Microsoft Graph API (a unified gateway to access data stored across Microsoft cloud service resources) and the CloudBlue platform to give Microsoft partners access to key details related to their customers/tenants, including:
number of users
number of licenses purchased
customer security scores
This feature provides partners with an overview of customers' activities and security status.

Customer Product License Summary. With this feature, Microsoft partners can review all licenses provisioned for their customers, along with detailed usage statistics — enabling them to identify whether an order is:
accurately sized
over-utilized
under-utilized
Here's an example: Let's say MyBusiness Corp has purchased 10 Microsoft 365 licenses but only uses six of these licenses. With the Customer Product License Summary feature, a Microsoft partner can access and relay this information to MyBusiness Corp, helping the company to upgrade the licenses or reassess its needs during the renewal process.
This feature serves a dual purpose: it fosters strong relationships between partners and their customers by ensuring optimal license usage, and it provides partners with an opportunity to demonstrate their value to Microsoft by right-sizing licenses according to consumption.
Microsoft Secure Score. This feature acts as a security health check for Microsoft partners, allowing them to review a customer's security performance and highlight areas for improvement. This helps to prevent or mitigate any security-triggered incidents.
Like a security audit, it detects instances where Microsoft's recommended security practices are not being followed, such as:
absence of two-factor authentication
lack of security defaults
use of outdated Windows versions on registered devices within Azure AD (Active Directory)
Microsoft Secure Score also provides actionable recommendations for improving customer security scores.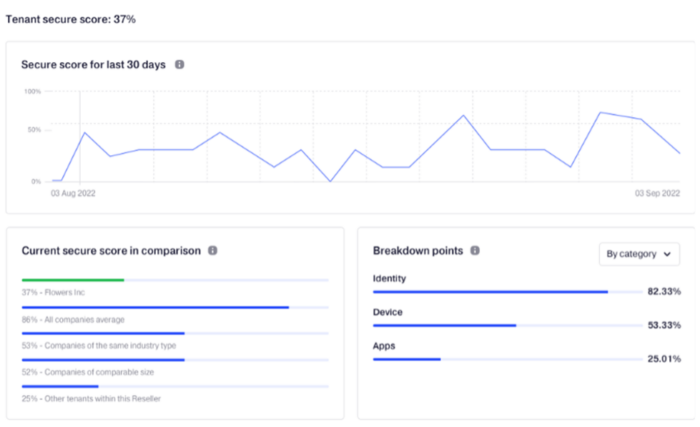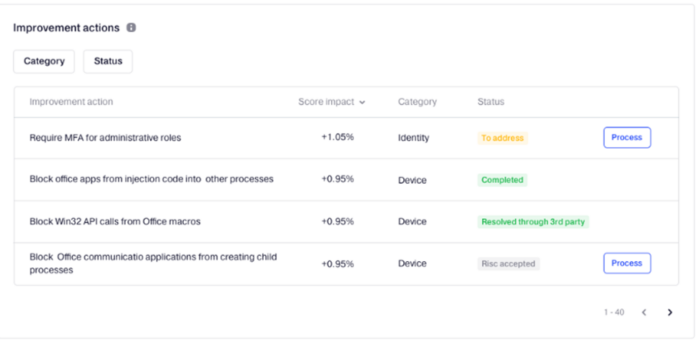 Domain Management. The Domain Management feature enables Microsoft partners to automate the domain management process by configuring the customer's existing domain to their Microsoft environment – a traditionally manual, tedious, and complex process involving domain ownership approvals, email verifications, and DNS configurations.
If, for example, MyBusiness Corp wants to register its internal website to Microsoft services, the Domain Management feature lets Microsoft partners automate and streamline the entire process, making it quicker, more reliable, and efficient for MyBusiness Corp.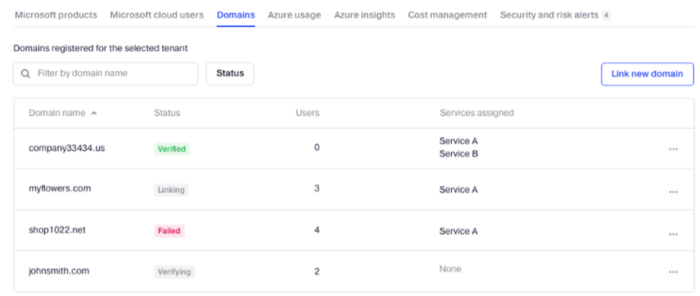 Azure Billing Reports (available in July 2023). This essential capability equips Microsoft partners with the ability to generate Azure billing reports for both open and closed billing periods. These in-depth reports shed light on all customers' usage of Azure resources, presenting Microsoft partners with enhanced transparency throughout the reconciliation and billing sequence.
In addition, during open and closed billing periods, a billing report can be generated in marketplace local currency.

Watch out for more from CloudBlue
At CloudBlue, innovation is more than a buzzword: It drives our mission to constantly enhance and expand our offerings. We're committed to providing CloudBlue partners with the tools they need to excel in their industries. As part of this commitment, our teams are developing a host of new features — including more MOME differentiating features — to deliver even greater value to your operations.
Stay tuned to our Feature Highlights series for updates on these and other exciting new developments!
CloudBlue, an Ingram Micro Business uses Cookies to improve the usability of our site. By continuing to use this site and/or log-in you are accepting the use of these cookies. For more information, visit our
Privacy Policy
I ACCEPT