Accelerate your move to the anything-as-a-service economy
Do you need to advance your digital commerce, expand cloud services, and revolutionize your entire enterprise business? With CloudBlue—the only cloud commerce engine engineered for hyper-scalability—you can get it done fast.
This is business accelerated
Hyperscale Platform
CloudBlue can accelerate digital commerce for any business, powering all kinds of service providers to build, scale and monetize subscription-based digital services.
Infinite ecosystem
Start selling more than 200 cloud solutions instantly through a built-in marketplace. You can get to market fast with a full portfolio, using simplified onboarding processes and unified vendor management.
Acceleration services
Increase speed to revenue with CloudBlue's proven services and support. Plus, tap into the deep expertise of the CloudBlue team in transforming businesses into global cloud leaders.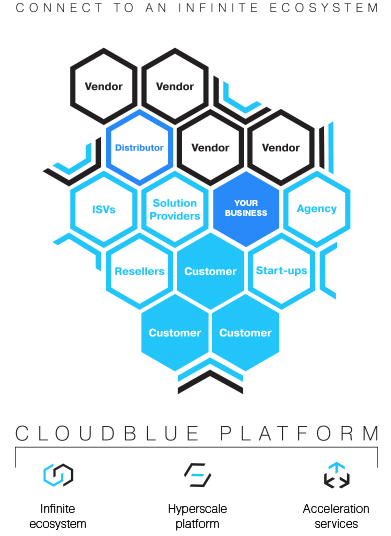 What it takes
to get there
Learn how to outperform the competition and accelerate your success by becoming a digital-native enterprise (DNE). Download this IDC research report today and see how CloudBlue can help you:
Gain access to a wider global ecosystem of technology providers to expand your offerings
Leverage a hybrid and scalable as-a-service platform to meet growing customer demand
Connect with new revenue streams, increase customer loyalty and improve efficiency
You're already competing against DNEs. Isn't it time you evened the playing field?